Apply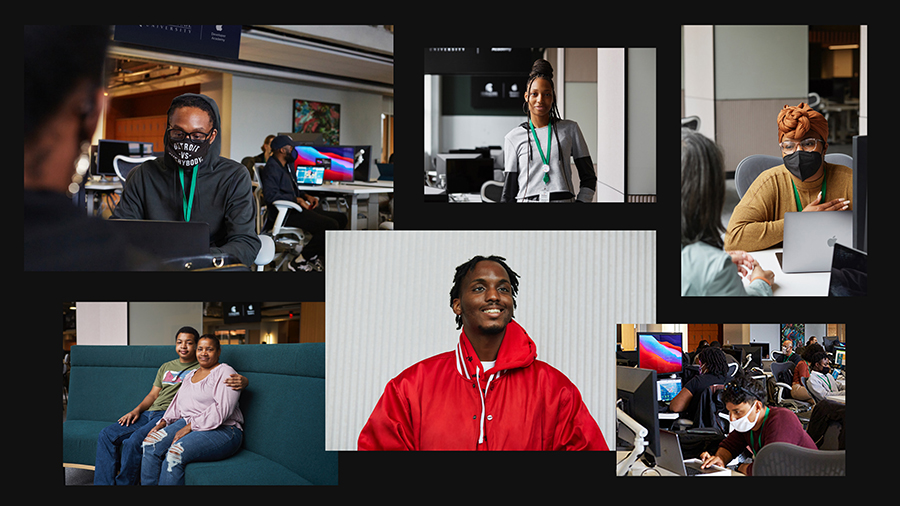 Is the Apple Developer Academy for Me?
We are thrilled that you are interested in applying to the Apple Developer Academy with Michigan State University in Detroit. At the Academy, you will learn to navigate the app economy: coding with Swift, UI/UX design, tech entrepreneurship, and project management. You will also have the opportunity to practice professional skills like collaboration, public speaking, or interviewing.
Applications for 2023/2024 are now open.
Our application process is three-fold:
submit your interest form
if eligible, you will be asked to participate in an interview
The next Apple Developer Academy cohort starts on August 28, 2023. You must be 18 and older to apply.

I am a developer to create and engage with others.
There is often confusion between the role of a developer and the role of a programmer. Programmers are involved in a specific part of a tech project—coding. Instead, developers are responsible for the full scope of a tech project. If you join the Apple Developer Academy, your responsibilities will include writing code in addition to other tasks like research, design, or project management.
I am a developer to be challenged everyday.
Still not sure? Here are the most common questions we get about the Apple Developer Academy:
Is this a coding bootcamp?
No. While some aspects of the program are similar to bootcamps, the Academy doesn't solely focus on coding. If you are looking for a coding bootcamp, check out offerings by Grand Circus.
Is this program in person?
Yes. We meet in person for 20 hours a week for 10 months.
Is there a cost?
No. The program is free to attend.
I am a developer to be a resource to others.
Do you want to become a developer? 
Applications for 2022/2023 are closed, please check back later.
More questions? 
Contact us or email developeracademy@msu.edu for more information.
---

The Gilbert Family Foundation, in partnership with Rocket Companies, proudly supports the Apple Developer Academy at Michigan State University in Detroit. GFF is committed to building access to opportunity and advancing equity for all members of the Detroit community by unlocking pathways to education and employment through intentional programming like the Academy.