MSU announces Gilbert Family Foundation, Rock Family of Companies support for opening Apple Developer Academy in Detroit
June 17, 2021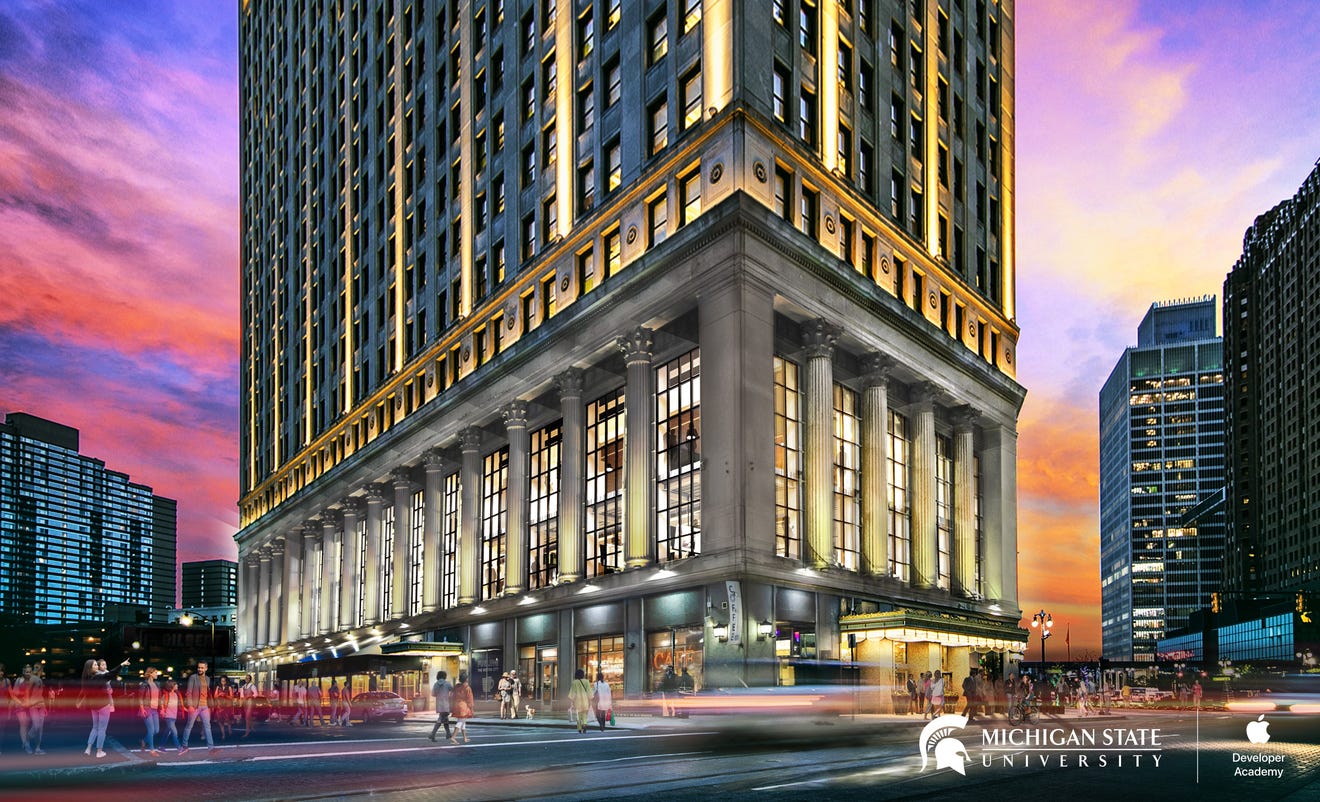 UNIVERSITY COMMUNICATIONS * Michigan State University * 408 W. Circle Drive * East Lansing, MI * 48824
Contact: Caroline Brooks, University Communications: (517) 432-0920, brooks78@msu.edu
Academy will open in October in First National Building
EAST LANSING, Mich. – Michigan State University today announced the Gilbert Family Foundation, in partnership with the Rock Family of Companies, will support the new Apple Developer Academy in Detroit, a transformative education collaboration between Apple and MSU and the first Apple Developer Academy in North America.
Apple, MSU and the Rock Family of Companies share a vision to empower diverse entrepreneurs, creators and coders by helping them cultivate the skills necessary for pathways in the rapidly growing tech economy. The Gilbert Family Foundation grant will support the Academy's general operations and expenses including but not limited to program development, infrastructure and staffing.
"Apple's arrival in Detroit has the potential to impact generations of Detroiters by offering new, unique pathways to join the tech renaissance," said Dan Gilbert, chairman and founder of Rocket Companies. "As Detroit's tech sector strengthens, we need to invest in intentional programming like the Academy to advance equity and remove barriers to entry for members of our community. Jennifer and I are proud to be partnered with our alma mater, MSU, and Apple to realize this vision."
In addition to the grant from the Gilbert Family Foundation, the Rock Family of Companies — made up of nearly 100 separate businesses spanning fintech, sports, entertainment, real estate, technology startups and more, including Rocket Companies, Detroit Venture Partners, the Rocket Community Fund, Grand Circus and StockX — will propose mentor and student pathways to and from the Academy, contribute to the Academy program through guest presentations and networking events, and present career pathways for interested graduates.
The Academy will be located on the second floor of Bedrock's 660 Woodward Ave, known as the historic First National Building in the heart of downtown Detroit. Initial renderings of the space accompany MSU's announcement.
Establishing the Academy in Detroit reinforces the city's reputation as a Midwest hub for technology and entrepreneurship.
As part of Apple's Racial Equity and Justice Initiative, the Academy aims to improve access, outcomes and equity for communities of color and to enhance the diversity of entrepreneurship and technology-related fields. 
"At Apple, we have seen how technology can be a powerful force for good, creating new opportunities and providing tools for creativity and entrepreneurship," said Apple Vice President of Environment, Policy and Social Initiatives Lisa Jackson. "It's critical that all communities have access to those opportunities, which is why we are thrilled to open the first Apple Developer Academy in the U.S. in downtown Detroit, a city full of resilience, creativity and entrepreneurship. We look forward to opening the Academy this fall and appreciate the partnership with MSU, The Gilbert Family Foundation and Rock Companies."
The Academy will welcome its first cohort of students in the Fall of 2021. Tuition to the Academy is free, and priority admission is granted to applicants from Detroit.
Apple and MSU anticipate that the Academy will impact close to 1,000 students each year.
The grant provides MSU with the capacity to not only build, but also grow and sustain pathways to employment for diverse learners by:
Offering a distinctive educational experience in a city that embraces innovation and diversity
Accelerating local support that will help drive student participation and entrepreneurship
Supporting MSU's startup costs and operating expenses
Expanding the university's presence in Detroit
Strengthening connections with a vibrant network of community partners
Over the last several years, MSU and the Rock Family of Companies have worked together to bring equitable learning experiences to Detroit residents that would provide new pathways for students to break into technology careers. This Academy space builds on that history of partnership and on the Rock Family of Companies' broader mission to drive equity and bridge the digital divide for all residents across Detroit.
"There is no better city than Detroit for the Apple Developer Academy, and we're excited to partner with MSU and Apple to bring it to life," said Jay Farner, CEO of Rocket Companies. "This is another significant step we're taking to build a diverse ecosystem of Detroit-grown businesses and talent. We're equipping the next class of entrepreneurs with tools they need to succeed in a fast-growing sector and can't wait to see the ideas that emerge from the Academy."
Partnering to bring the Apple Developer Academy to Detroit was a natural fit and represents a major milestone for the longstanding vision and relationship with the Rock Family of Companies and the Gilberts, who are both MSU alumni.
 "I thank the Gilbert Family Foundation and the Rock Family of Companies for their philanthropic leadership and for making the investment in this exciting, groundbreaking partnership in Detroit," said MSU President Samuel L. Stanley Jr., M.D. "Increasing access to education is important to MSU and a cornerstone of our university's mission. We are grateful to have a partner who shares our vision for equity and talent development."
MSU is currently vetting candidates for academic mentors to join the Academy in the fall, and student applications are open through the end of June.
###
Michigan State University has been working to advance the common good in uncommon ways for more than 165 years. One of the top research universities in the world, MSU focuses its vast resources on creating solutions to some of the world's most pressing challenges, while providing life-changing opportunities to a diverse and inclusive academic community through more than 200 programs of study in 17 degree-granting colleges.
For MSU news on the Web, go to MSUToday. Follow MSU News on Twitter at twitter.com/MSUnews.